note:
The flip of number 8 is symbol of infinity. So, Love is Infinity~
Sorry
lambat sambung, biasa la, berkabung,
metaphorically and literaly speaking...
Sudah lama entry ni terjeruk dalam 'draft'... aku
mentally exhausted
pulak untuk buat sambungan... maklum la, aku bukan biasa sangat dengan jiwang-jiwang nie... wakakak!!
Ok, let's getting started...
Satu kemeriahan berkumpul dengan sanak saudara, dekat ataupun jauh, selain daripada hari raya, ialah apabila adanya acara-acara seperti majlis kesyukuran, majlis kahwin ataupun majlis tahlil. Memang meriah sebenarnya, cuma sayang ia jarang dapat dilakukan... dan ironi, pada pandangan aku, jika majlis tahlil arwah jadinya meriah apabila sanak saudara yang jarang-jarang berkumpul, mula berjumpa sesama mereka.
Dalam pada berkumpul itu,
for what ever reason it could be,
dapatlah aku bertentang mata dengan sanak saudara yang jauh, sama ada dari segi pertalian, hubungan ataupun jarak tempat tinggal...
Dan dalam proses itu jugalah mata nakal aku menyaring mana-mana sepupu, dua pupu mahupun 14 pupu yang ayu-ayu... hehehe
Apa nak buat, aku hanya lelaki normal...
Dalam satu peristiwa itu, aku terpandang wajah dia...
Agak misteri... itulah
first impression
aku. Kata orang
first impression
ni penting! Terutamanya
time
nak pergi
interview
kerja... tapi
for my experience, I would know better to write off first impression
... huhu
Wajahnya biasa-biasa sahaja, tiada yang luar biasa, mungkin dengan mata yang sedikit kuyu dan kulit yang putih licin... ada
Chinese look
, kata orang... Ni kalau aku tunjukkan dekat
Mr Kelbros
ni, mesti dia suka!
Dalam satu hari
event
tu, dia nampak
cam
keseorangan dan tak banyak cakap...
Being a coward myself
, aku tengok dari jauh je la...
Then
peluang sampai (aku terpaksa singkatkan cerita ni,
apparently
, aku
takde
idea...), semasa nak ambil makanan tu, aku dapati ada ruang untuk
approach
dan sekali gus memulakan bual bicara... Dalam
duk
berkira-kira ayat-ayat
pick up line
dari kitab cinta karangan
Mr Shah
tu, aku dapati aku dah ada belakang dia...
Dalam pada itulah aku dapat lihat dengan jelas t-shirt yang dia pakai...
First
aku ingatkan dia pakai t-shirt baju sukan sekolah ke apa,
kaler
dia pelik... Biru gelap dan lengan kuning... Takde
taste
langsung dalam fesyen bagi seorang gadis muda...
Apabila sudah dekat tu, barulah segala-galanya jelas bagi aku... Barulah aku nampak apa yang telah terselindung selama ini...
Ya Tuhan, betapa aku buta sebelum ini, nyaris-nyaris aku termasuk dalam golongan mangsa
'cinta itu buta'
... Namun aku berjaya diselamatkan setelah hampir selangkah, bahkan hanya setapak lagi aku nyaris tersungkur...
Di belakang t-shirtnya itu terpampang
'Lampard 8'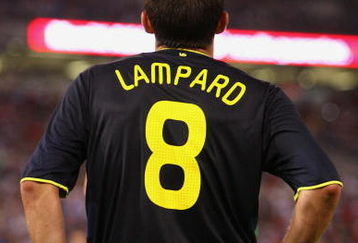 and I cursed my fate and look upon the sky and begging, "Oh God! Give me a break already... when will a 'red devils' meet another 'red devils'??
To be concluded....
T/t: setiap kali aku pergi tengok bola kat stadium je, Kelantan mesti menang 3-0... So, aku dalam dilema: adakah aku patut terus ke stadium untuk Kelantan terus menang 3-0, ataupun aku berhenti pergi ke stadium supaya Kelantan boleh menang 6-0??