it's coming to you from every side....
In 98 more days from this article were written, a FIFA World Cup
South Africa 2010 will be kick off! So, what's in for all of us, the football addict?? Here are some preview, facts you need to know, and my very own predictions to this most anticipated events of the year!
Preview:
South Africa will be the first African nation to host the World Cup! Before, there were played 10 times in Europe, four times in South America,
three times in North America and one time in Asia. 64 matches will be played from the group stage up until the final match. The first match gonna be between host nation, South Africa vs two times host, Mexico in Johannesburg in
Ellis Park Stadium
on 11th of June (22:00 Malaysian time). The final will take place on 12th of July also at Johannesburg (02:30 Malaysian time). So, keep your appointment clear on those dates!
Click
here
for more detail about the host nation =D
Italy is the current holder for the World Cup tittle (you know this unless you've been living inside a cave in the past four years. They had already won the tournament four times in the game history. The most successful nation would be Brazil who already won this five times.
Other winners were :
West Germany (now Germany) 3 times
Uruguay 2 times
Argentina 2 times
England 1
France 1
Team to Beat:
Spain:
the current holder of Euro 2008 cup is the team to beat. With a flowing football they played, almost all the great football nation had stumble to their feet (literally) in the past couple of years. Their strength would certainly on their midfield with the most deadly partnership of strikers in the world in the form of Fernando Torres and David Villa. David Villa would certainly the most form striker at the international level! Even though their back line might not be yet the best and lack strength in depth, they do possessed one of the best keeper in the world right now...
Team to Watch:
England:
After failing to qualify for the Euro 2008, the reform England squad under the management of Fabio Capello certainly had revival to their best potential. Often coming to this tournament as one of the favourite, the Three Lions Golden Generation always come short, and more often than not it's because of the penalty kick... But now, with an impressive form during the qualifying stage, they look like a more complete team than they ever were. The winner of the 1966 edition however might lack a little bit of strength in depth in their squad, and that yet to be tested before this year kick off!
Team (s) to not to Write Off (just yet)
Argentina:
Under the 'Hand of God' Diego Maradona, the surprisingly a very high potential with a lot of talent's team seems to struggle. Up until now, Maradona had used about 100 players in their qualifying matches and friendlies since he took over as a manager. His lack of experience in football management might be a setback for their Cup Glory's hunt. But, they do have in their squad, the world best player in Lionel Messi, who had won
EVERYTHING
in football that are there to win, either individually or as a team, including with his under-21 national team, World Cup and Olympic 2008 in Beijing, but yet to win anything with Argentina senior squad!
Could he done the job for the Argentine?
Germany:
The current crop of players of theirs might not be the best by their own standard, but their achievements in international stages in this decade had been impressive! Finalist for the 2002 World Cup edition, third place for 2005 Confederation Cup and 2006 World Cup (as the host nation), and again finalist for the Euro 2008. they might want to do a step better for this year World Cup edition if they want to strip the 'almost team' title on them...
Miroslav Klose: Last Edition Top Scorer
Italy:
the current cup holder might not be on their strongest and best form when they coming through this year competition, but there are no doubt about the talent circling in this team. With the back of their World Cup winning manager and the experience of the squad, expect them to be at least on the last 16. The only setback would be too many old leg in their squad...
Italian Job: Cannavaro lifted the trophy for the Italy in 2006
Brazil:
the samba squad always come strong in this tournament (that's why they are the most successful nation in the cup history), and this year is not very different either. Been as s favorite and as a defending champions during 2006's tournament, they been knock off by surprise by that year finalist and runner-up France, they might want to improve on that record. The current crop of players might not as mighty as the 2002 World Cup winning squad, but with their legendary ex-capitan, Dunga as their manager and talent like Kaka', Pato, Fabiano, Danny Alves and Julio Cesar, there's no surprise if they can go on cruising once again in this year edition!!
Expect the un-Expected
South Africa:
as the host nation for this year edition, they might come up with some surprise under their sleeves as many host nations has done on the previous editions. Bafana Bafana!!
South Korea:
the semi finalist of 2002 edition as a co-host, they certainly got the players to at least cruising through the group stage. With the like of 'Double Dragons', Lee Chung-Yong and Ki Sung-Yong and United Park 'oxygen tank' Ji-Sung, they might posed some threat to other mighty nations...
Ki Sung-Yong of South Korea
United States:
the only team to beat Spain in the competitive tournament in the past couple of years. They do possessed some quality players with experience in high level club competitions across Europe, and their team are quite good in term of World Cup achievement...
Ghana:
with the like of Michael Essien of Chelsea and Sulley Muntari of Inter Milan, the Black Star can posed some threat to the bigger nations in football...
Netherlands:
the birth place of 'Total Football' philosophy, with the like of Wesley Sneijder, Arjen Robben, Van de Vaart, RVP and Klass Jan Huntelaar, they are a team to be fear. The down side however is their defense, which is vulnerable to say the least...
Paraguay:
at times leading the South America qualifying stage and beat the like of Brazil and Argentina. This team do show some promising potential to go all along to claim the prize!
North Korea:
little known about their country and so do their national side... but, if history is anything to refer to, they do have a capability to be a giant killer or at least shocker...
Switzerland:
last edition tournament, they were knock out without conceding even a goal in 90 minutes action! They were knock out on penalty shoot on the last 16 round. Their youth squad had won the recent Under-17 FIFA World Cup, and there were no shocker to think their senior squad do just the same in this year tournament...
France:
if you can win with a hand goal, nothing gonna be stopping you!! =D
Ok, seriously, they do have the talent, but you might write them off cause their manager are just sh*tty...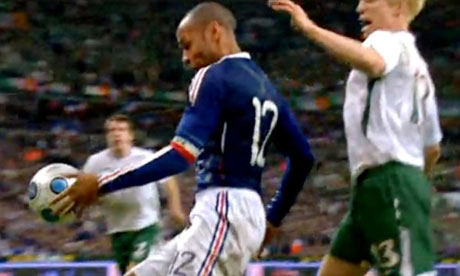 If you can get away with this, you might as well get away with the prize "D
Extra:
-No European nations ever win the World Cup outside the European soil...
-Egypt has win three consecutive African Cup of Nation, but didn't qualify for South Africa World Cup
-From 1930-1970, the trophy was named as
Jules Rimet Trophy
after the FIFA President who set up the first tournament in Uruguay. The trophy was awarded to the Brazil after they won it for the third time, but had been stolen from their possession...
-There were no other winner yet from outside European and South American nations...
Up next: the stadiums and city of the venues!!